Benefits Of Having A Food Delivery App For Your Restaurant Business
Looking to grow your restaurant business? Believe it or not, the food delivery app industry has been growing significantly in the past few years, and it doesn't show signs of slowing down any time soon. More than half of Americans report that they order food from restaurants as frequently as once per week, and this number is even higher for young adults who are ages 18-34.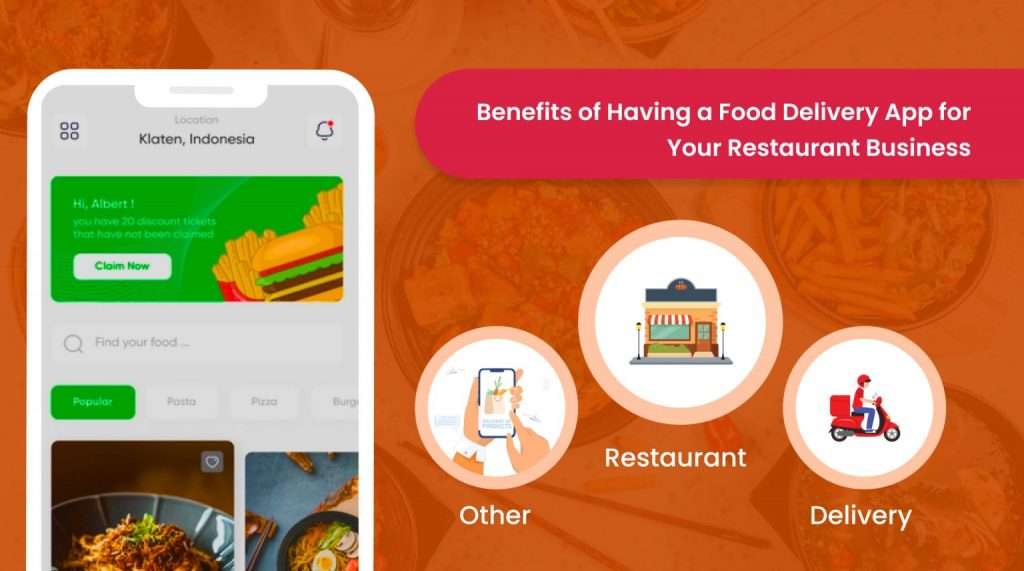 As an entrepreneur looking to grow your restaurant business, you have to ask yourself if you have an online presence that appeals to this large group of potential customers!
The Rising Popularity Of Food Delivery Apps
One of the most popular trends in recent years has been the rise of food delivery apps. These apps have made it easier than ever to get our favourite food delivered right to our doorsteps. But what has made them so popular?
There are a few key reasons why food delivery apps have become so popular. First, they are incredibly convenient. With just a few clicks, we can have our food delivered without having to leave our homes. Second, they offer a wide variety of choices. Whether we want Chinese food, Italian food, or anything in between, there's a good chance we can find it on a food delivery app. Lastly, food delivery apps are typically very affordable, which is another big plus. So, if you are looking for a quick, easy, and affordable way to get your favourite food, a food delivery app is a must.
Time Management
A food delivery app can help your business in many ways. Not only does it increase revenue by reaching an entirely new group of customers, but it also allows you to reach them at times when they're hungry and want good food delivered. When choosing an app to use for your restaurant, keep these features in mind. One is GPS tracking as many apps allow you to view where drivers are on a map. You can also have their phone numbers so that you can call if there are any problems or if there is an unexpected delay in getting food out. Next is the text updates: While you might not be able to get notifications for every single order placed with your app, text alerts are often sent when there is a delay or problem with one of your orders.
Quality Control
One obvious advantage is making it easier for customers to order from your restaurant—they can place an order on their phone, 24/7. Not having to pick up the phone and call in an order will encourage more people to try your restaurant. Plus, restaurants use third-party delivery services to get an extra layer of quality control that they don't have if they handle deliveries themselves. If you do decide to manage your deliveries, consider creating an online ordering platform so customers can place orders directly through your website. This also helps you avoid paying fees to companies.
Cost Saving
If you operate a restaurant, then you will know how much time and money is lost to staffing costs every day. You need to pay someone to work behind your till as well as someone else to serve customers. However, when you offer an online food delivery option, you're able to save these costs because there isn't anyone standing at your cash register or waiting on tables. The online food ordering app does all of that for you – making it easier and faster for customers who are using it. Plus, you don't have to worry about paying any extra wages if you need fewer people working in your restaurant during busy periods. Increased Profit Margins: Many restaurants struggle with profit margins because they can't predict their takings accurately enough. They may end up selling more meals than they anticipated and find themselves understaffed; but if they sell fewer meals than expected, they could be left with staff sitting around doing nothing and losing money through wage expenses.
Increased Sales
Not everyone can make it to your restaurant. If you are offering fresh and delicious food, people will still want to try it out, regardless of location. That is where having an app comes in handy. You can reach a larger audience who is interested in what you have to offer. This leads to increased sales and exposure for your restaurant. People are going to be more inclined to order from you if they know that it is easy and convenient. It also helps with customer retention because you already have their payment information on file, which makes reordering easier than ever before.
Increased Brand Awareness
People love convenience, and food ordering apps make it easy to order from restaurants near them. With many options to choose from, customers are more likely to order from your restaurant because it's both familiar and appealing. Also, customers are more likely to spread positive word-of-mouth advertising if they're satisfied with their dining experience. Overall, having an app increases brand awareness among consumers—which can bring in new clientele. Easier Ordering is for diners, it is convenient to place orders through apps on their phones or computers. If you already have a customer base that uses your restaurant frequently, chances are they already have your contact information saved on their phones or tablets.
Improved Customer Service
By using a food delivery app, you make it easier for customers to order from your restaurant. You save them time and effort, and they don't have to wait in line at your store. It also gives them more freedom over what they want to order. Maybe they just want takeout tonight instead of eating out. A food ordering app allows them to place an order online, right from their phone or computer. They can even pay for it with their credit card through the app! All that convenience means happier customers and better customer service.
Summing Up
Food delivery apps offer a convenient way to get food from your favourite restaurants without having to leave your home. Also, they often offer discounts and promotions that make them more affordable than going out to eat. third, they provide a wider selection of restaurants to choose from than traditional delivery services!